05 Sep

Choosing The Right Fabric for Furniture

Whether covering your furniture or adding a splash of color in the form of curtains, the right textiles can bring together the design of any room. It can be easy to feel overwhelmed when trying to find the perfect fabric for your home as there are many options to consider – not only do you need to find something that looks good, it is also really important to consider how your lifestyle may affect its appearance and durability.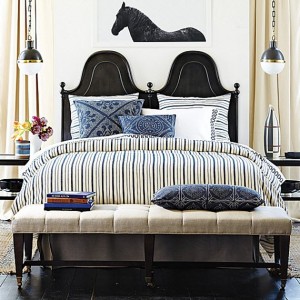 Image Source: Simplified Bee
Styling your home with fabric
The first step is to think about the overall design scheme of your home. Are you leaning towards a modern look with a neutrals and geometric shapes, or are you envisioning the breezy blues and whites of a coastal aesthetic? Identifying a specific design style can help narrow options for color and patterns. Pick two to three prominent colors to use as a guide while shopping for new fabrics.
Once you find a textile that you like, ask if you can get a swatch of fabric to take home before making a final decision. Placing the fabric in your room will help you see how it looks against walls, carpeting, and other pieces of furniture that you may have in mind. It is also important to pay close attention to the lighting in the room as fabrics often look different under natural light than they do under artificial light.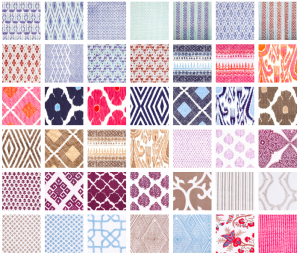 Image Source: Danielle Oakey Interiors
Choosing the right type of fabric
The type of fabric used on an upholstered piece is the most visible sign of quality and style. When choosing fabrics, think about how it is to be used and where it is to be located. Items that are used every day, enjoyed by pets and kids, or have a lot of exposure to sun will need careful consideration to ensure the type of fabric chosen is suitable. Considering your lifestyle when choosing upholstery is not meant to limit your options, but help you to better understand how to make the piece as beautiful and functional as possible.  Below are different types of fabrics and their uses:
Natural Fabrics
Linen is very resistant to fading so it is great for those sunny rooms, but it soils and wrinkles easily so is best suited for formal living rooms or adult-only areas. It will not withstand heavy use and must be professionally cleaned to avoid shrinkage.
Cotton is a natural fiber that is durable and easy to clean, but is less resistant to wrinkling and fire. Blending with other fibers often atone for these weaknesses.
Sturdy and durable, wool and wool blends offer good resistance to pilling, fading, wrinkling, and soiling. Generally, wool is blended with a synthetic fiber to make it easier to clean and to reduce the possibility of felting the fibers (causing them to bond together until they resemble felt). Blends can be spot-cleaned when necessary.
Depending on the weave, cotton blends can be sturdy, family-friendly fabrics. A stain-resistant finish should be applied for everyday use.
Easy-care and less expensive than leather, vinyls are ideal for busy family living and dining rooms. Durability depends on quality.
Silk is a delicate fabric and is only suitable for adult areas, such as formal living rooms. It must be professionally cleaned if soiled.
Leather is a tough material that can be gently vacuumed, damp-wiped as needed, and cleaned with leather conditioner or saddle soap, so it is an ideal option for a family room.  Plus it does tend to look better with age.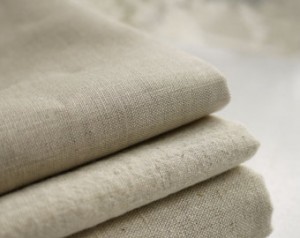 Image Source: Etsy.com
Synthetic Fabrics
Acetate is an imitation silk that can withstand mildew, pilling, and shrinking. However, it tends to wear, wrinkle, and fade in the sun. It's not a good choice for furniture that will get tough everyday use.
Rayon is made to imitate silk, linen, and cotton. It is a durable fabric but it does wrinkle. Recent developments have made high-quality rayon very practical.
Acrylic was developed as imitation wool. It resists wear, wrinkling, soiling, and fading. Low-quality acrylic may pill excessively in areas that receive high degrees of abrasion, but high-quality acrylics are manufactured to pill significantly less.
Nylon is usually blended with other fibers to make it one of the strongest upholstery fabrics. Nylon is very resilient; in a blend, it helps eliminate the crushing of napped fabrics such as velvet. It does not readily soil or wrinkle, but it does tend to fade and pill.
Olefin is a great choice for carpet, upholstery, draperies, and floor coverings that will receive heavy wear. It has no pronounced weaknesses and is known for its strength, colorfastness, and comfort.
Polyester is blended with other fibers to add wrinkle resistance, eliminate crushing of napped fabrics, and reduce fading. When blended with wool, polyester aggravates pilling problems.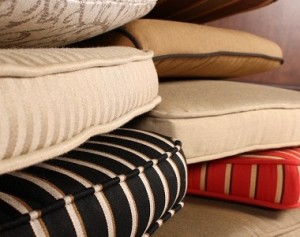 Image Source:  Family Leisure
Once you have found the style of furniture that you like or the piece that you want to get re-upholstered, spend some time consulting with the upholster or a person at the fabric store.  They can help recommend fabrics to suit your lifestyle, budget and design.  Playing with upholstery is often an overlooked way to give new life to a room and to help you re-use furniture that you love but that looks worn out.  Do not throw out that old sofa just yet, see what it would look like re-upholstered and you may fall in love with it all over again.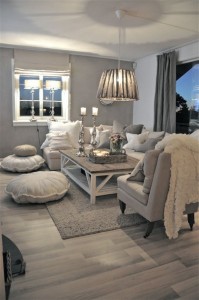 Image Source: Decoist