09 Jun

Summer 2014 Design Trends

Does the beginning of summer have you itching to change things up around your house?  Do you have the sudden urge to make everything sunny and colorful?  Here are some of Summer 2014's hottest design trends to help get you started.

Mid-Century Modern

This trend is here to stay.  The clean lines, geometric patterns and retro appeal of mid-century modern furniture have been popping up in living rooms, bedrooms and offices for the past couple of years and this trend is going to continue for many years.  This trend is nod to years gone by as well as the expression of our wish for things to be more simple, less cluttered and natural.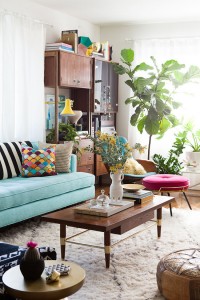 Photo courtesy of Design Love Feast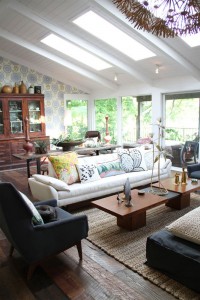 Photo courtesy of Apartment Therapy
Navy & Coral
This color combination just screams summer. The coral is bright, cheerful, and a bit tropical, the navy acting as both a neutral and a reminder of long summer nights.  This trend is appearing in pillows, bedspreads, curtains and even furniture.  This trend would look great in a family room, guest room or even an outdoor living space or patio.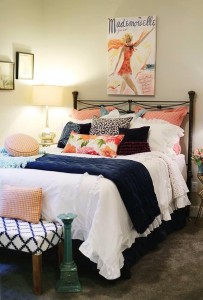 Mixing Metals
This summer combinations of brass, stainless steel, copper, oil-rubbed bronze, gold, silver and mirrored finishes can be found all together, in the same room.  Gone are the days where mixing gold and silver was a fashion faux pas.  Gold pendants hanging over a kitchen island paired with stainless steel appliances is a beautiful, elegant arrangement.  Copper is having a big moment, a spinoff of the rose gold trend in jewelry.  Paired with metal pipes as part of a bookshelf or framing a mirror, copper is modern and even a bit edgy.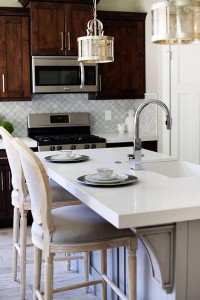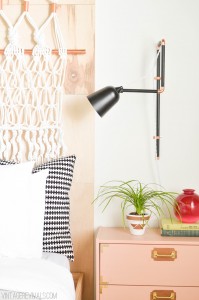 Photo courtesy of Vintage Revivals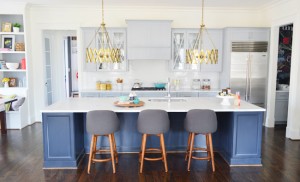 Photo courtesy of Young House Love
Geometrics
This summer geometrics are bolder and brighter.  They can be found in textiles, flooring, decor and clothing.  Geometrics can be combined with other patterns as seen in the pillow arrangement below, or stand on their own for a bold statement.  They bring a youthful and modern feel to a space and can even add dimension when used as wall art or decorating a table top.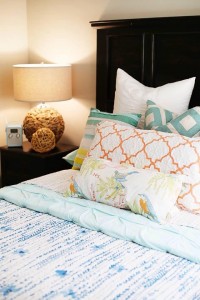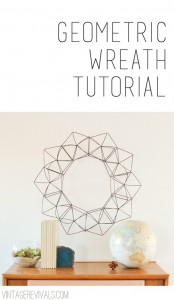 Photo Courtesy Of Vintage Revivals
Textured Walls
Textured walls and wallpaper are appearing in both high-end and economical designs everywhere.  From a board & batten wall treatment to grass cloth wall paper, texture adds another layer to a space.   These types of wall treatments are fairly easy to apply and can be removed if necessary down the road.  They give dimension and a bit of sophistication to a space.  If you feel something is missing in your design, perhaps try a textured wall.