14 Mar

Top 10 Design Trends Of 2015

There is something about turning the page on the calendar from December 31 to January 1 that awakens something inside of you. Suddenly you are cleaning out closets, dusting the baseboards and giving in to the urge to re-decorate the whole house. Before you tear the house apart and rush to the store, take a moment to review these Top 10 Design Trends for 2015. You don't have to love them all, but maybe there is a trend or two you will want to incorporate into your home design.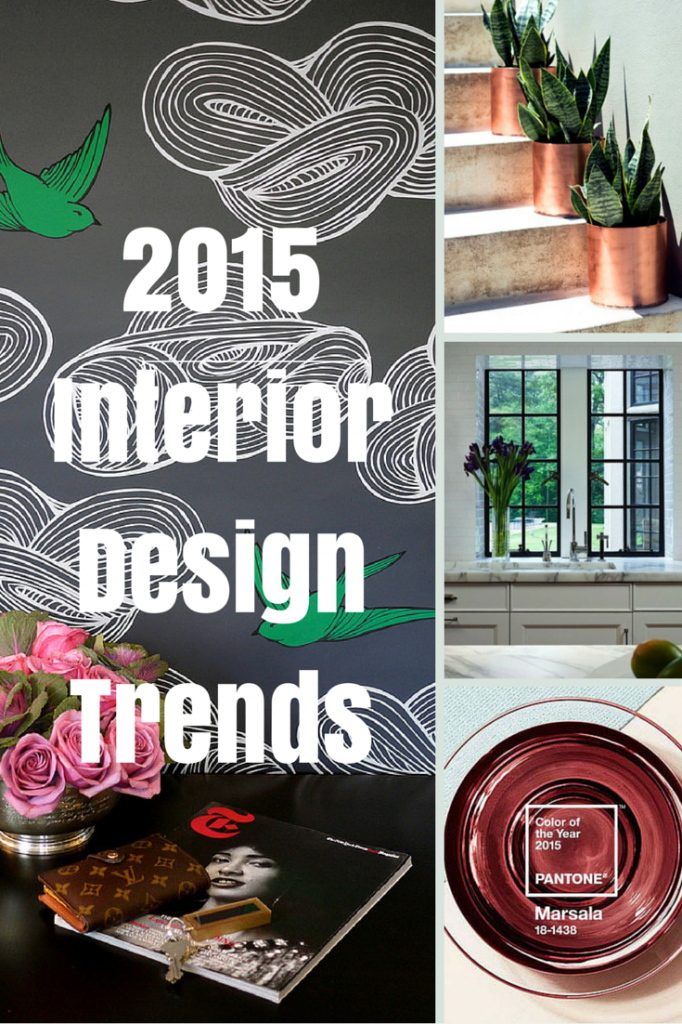 1. Berries & Jewels
Pantone announced that the color of the year for 2015 is Marsala and describes it as "A naturally robust and earthy wine red, Marsala enriches our minds, bodies and souls." While you might not paint an entire room in this deep, rich wine color, you could incorporate it into furniture, accents and even plants around your home.
 
Along with marsala, other jewel tones are making an appearance in posh spaces.
In order to avoid taking your house back to the 1980s, do not use them in grounding pieces such as carpet but do use them …..
2. Faux Fur
This trend started in 2014 and is carrying over into 2014. Faux cow hide, sheep skin and even leopard rugs will help to bring the "outside in" and they help give a more casual feeling to a space.
3. Copper
Silver, gold, and now copper. This earth-tone is popping up in lighting, accents, cabinet handles, dishware and even furniture. Copper offers a natural element
4. Luxury Closets
This trend has been fueled by the rise in popularity of fashion bloggers. A fashionable outfit looks much less glamorous online if it is surrounded by plastic hangers, old shoe boxes and builder-grade shelving. The closet has become an extension of the master bedroom and therefore people are dedicating time, money and design into making it a space you want to spend time in and play dress up.
The key to this trend is organization, or at the least the appearance of being organized. Clothes are organized by color and hung on matching wooden hangers, shoes are lined up on shelves, jewelry displayed on a posh stand and all of this highlighted by a beautiful chandelier hanging in the center. Now not all of us are fashion bloggers, nor do we have luxury of turning an entire bedroom into our dream closet, but there are things you can do to transform your closet.
• Start with the shelving; if you have wooden shelves, spend some time giving the walls and shelving a fresh coat of paint or line the shelves with pretty paper. Wire shelving can be spray painted and it is often modular so changing up the arrangement of the shelving can give you a new perspective on the space.
• Go through your clothes and shoes and donate or sell what you have not worn in the past year.
• Purchase all matching hangers. These can be found inexpensively at Ikea and even on Amazon.
• Display your jewelry. Stores such as Home Goods and TJ Maxx sell jewelry displays and Pinterest is full of DIY earring holders. Once displayed, your are more likely to wear your jewelry and it serves as décor as well.
• Upgrade the flooring. If replacing the carpet in your closet is not in your budget, purchase an area rug to throw down in the closet and it will immediately update the feel of the space. Go with a faux sheep skin or cow hide rug and you will be checking off two trends in one space.
5. Not Your Grandmother's Wallpaper
This may be our favorite trend as wallpaper can make such a big impact and doesn't have to be permanent.
Wallpaper is having a huge moment with lots of interior designers creating their own lines as well as the growing popularity of sites such as spoonflower where you can upload your own design and create custom wallpaper. While the days of floral boarders and roosters in the kitchen are gone, geometrics,_______ and _______ are here to stay. Here are a few examples of wallpaper that is on trend and actually looks cool (sorry roosters).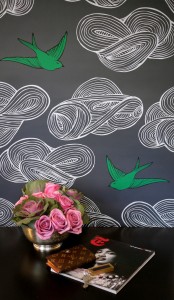 Image Source
6. Rustic Modern
This trend mixes the rustic, worn farmhouse look with the sleek, minimal, modern look. Paired together, these styles complement each other and while they seem like would not go together, they actually help to bring out positive qualities of each other. The modern aspect helps a space to feel clean and un-cluttered while the rustic pieces give a space a lived-in feel and employ you to feel comfortable in the space.
7. Less Is More.
This trend does not necessarly mean "modern" but rather relates more to a space feeling cluttered or over designed. There is something about editing a shelf, removing items from the table top and reducing the number of pillows on the bed that somehow allow a space to breathe and lower your stress level. Our lives are busy, full of people demanding our attention so coming home to a clutter free space can help you to relax (not to mention it is less to dust).
8. Stylish Bookworm
This may be our favorite trend yet. Formal libraries, whether it is just one wall along your family room, shelves at the end of a hall or an entire room dedicated to books, libraries are having a huge comeback. Perhaps people want to take a moment to escape technology and get lost in their imagination while curling up to a good book, but there is something nostalgic and inviting about a formal library.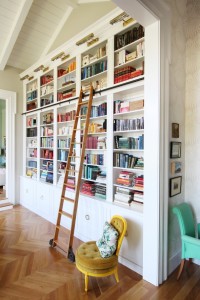 Image Source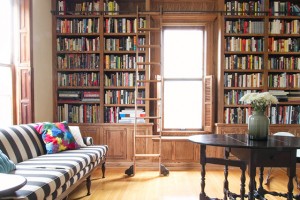 Image Source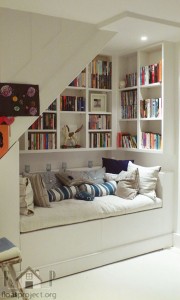 Image Source
9. Black is Back
When used correctly, black can be an elegant, modern and even inviting color in a space. Our favorite ways black (along with charcoal) are being used in interior design is window frames, doors and hardware.
Image Source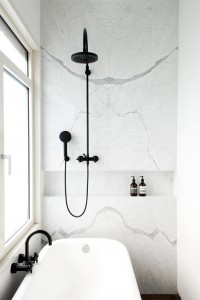 Image Source
The black pops against the white, or lighter backgrounds and makes the item stand out become the focus of the room.
10. Return to the good ole days
This trend comes from a time when we are trying to recycle, reuse and restore rather than buy new and throwing away the old It relates to restoring old homes back to their former glory and making original features the focal point of a space.
Clawfoot tubs, built in shelves, subway tile,